With MacOS Catalina, the iTunes application disappears permanently from Mac computers to be divided into several applications.
This is an opportunity to evoke the disappearance of this multifunctional application by paying it a last tribute and to take the opportunity to deliver some secrets or tips to keep and use the full version of iTunes 12.6.5 up to Mac Os Mojave for all those who choose to wait a little longer before permanently burying this application ...
A feature-rich application
Personally, I really like this application that I originally used to play Airplay music in my house and to buy music and synchronize it on my first iPods and later to synchronize applications, music tracks , podcasts, books, user guides in pdf, films, etc. on all generations of iPhone and iPad.
Listening to music 4 to 6 hours a day, I appreciate being able to create intelligent playlists, this is why I give you at the end of the article a little little-known tip to integrate extracts of paid songs from from the iTunes App Store.
The iTunes app explodes in Catalina
The application is replaced by several applications:
To synchronize devices, you must now use the Finder
Music (imported or purchased) is on Apple Music
Podcasts are on Apple Podcasts
Movies and series are on Apple TV
Audiobooks purchased on iTunes are in Apple Books
The iTunes Store can still be used on Mac & PC, and on iOS and Apple TV.
You have access to the same content and the same functionality.
If iTunes disappears on macOS Catalina, it is still available for Windows users.
But be careful with apple ...
With Apple, stopping and then replacing an application with a new version unfortunately quite often rhymes with a loss of functionality that we sometimes take years to find.
Numbers could be cited or iPhoto, which has been replaced by the crap app "Apple Photos" which still does not have, several years later, the wealth of features and presentation options of its ancestor.
For my part, I always appreciate the novelties and the improvement of the applications that I use but on the other hand, I like much less that one takes away functionalities to replace them by something less practical or less complete .
Improving ergonomics and optimizing interfaces being my hobby, I often give application developers ideas for improving their software and they are often grateful to me.
But submitting improvement ideas to Apple via the dedicated section is like throwing a bottle into the sea without ever knowing if the content will ever be read by a human.
Nor by a robot, since we do not even receive an automatic email acknowledging receipt ...
So I will wait for feedback before evolving one day to MacOS Catalina because I fear that iTunes will also undergo a first class burial by being replaced by less complete applications.
A trend: the scarcity of multifunction applications
For personal taste, I always liked to use all-in-one applications like iTunes or even the late Netscape (nowadays replaced by Seamonkey) because I found them practical and because they included a lot of functionalities.
Today these applications, sometimes treated as "gas factories", are shunned by users who do not use all of their functions or who do not know the subtleties ... preferring much simpler applications.
Apple has a small share of responsibility in this evolution because it has favored with the AppStore on iOS the emergence of many small specialized applications and often inexpensive for our iPhone and iPad.
This trend has also, to a lesser extent, extended to MacOs with the App Store which plays a little the same role. Apple even implemented an application launcher from the "Lion" operating system as a copy of the iOS interface called Launchpad.
For single task applications, I preferred the concept of widgets in the Mac Os Dashboard but this one, hidden by Apple from the Sierra and Mojave systems, now also disappears with Mac Os Catalina.
iTunes, an announced disappearance
iBook, Apple Books, Books
Apple started a few years ago to remove the "Books" part of iTunes by creating the iBook application (later renamed Apple Books, then Books)
During a system update, I discovered this new application and found that it was much less complete than the version integrated in iTunes, so I started to enter resistance from this moment to fight the scheduled breakup of iTunes.
From that moment on, I systematically deleted the "Books" application for each system update so that I could continue to manage my books and all my user manuals in iTunes.
Application management removed ...
At the end of 2017, Apple withdrew the management of iOs applications and their synchronization via the computer during an iTunes update.
Advanced users, in particular those managing the installation of applications on many Apple phones or tablets, complained on the forums and Apple then proposed a special version of iTunes which was offered for some time and which is the subject of this article.
Having experienced several evolutions of bad or buggy iOS applications, iTunes allowed me, not only the possibility of reinstalling previous versions but especially to make only one download per application to update my 4 iOS devices (2 iPhone and 2 iPad).
It seemed to me more coherent not to multiply the downloads for each device (even if the versions synchronized now in the cloud are a little lighter because adapted to each device).
This is why I kept on MacOS Mojave the latest version of iTunes managing both applications and books.
Full synchronization in the cloud
Regarding iTunes, the possibility of synchronizing all the content of our i-objects in the cloud at first rendering the application less and less essential on the computer for the vast majority of users until it is no longer mandatory thanks to the possibility of synchronizing all our data on iCloud.
This is a trend to which I am not in favor since synchronizations and downloads from a remote cloud (as also for streaming) consume a lot of electrical energy on our planet and do not really go into the common sense to fight global warming…
Full iTunes on Mac OS Mojave is still possible!
Today, on Mac OS Mojave I continue to use iPhoto 9.6.1 and iTunes 12.6.5 with the management of iOS 13 applications and books with an iPhone X and an iPad Pro 2018 but I paid attention to each setting system update from Yosemite, El Capitan, Sierra, High Sierra and Mojave to do the following:
Back up iTunes 12.6.5 iTunes Library files (and keep iTunes 12.6.5 installation disc image)
Disable SIP
Avoid launching new iTunes and Books applications before:

Delete IBook (Book / Livre) using the AppDelete utility (which allows you to keep an archive) so that the management of books reappears in iTunes.
[BE CAREFUL if you have used iBook before, it is much more complicated to go back for books, do not delete the application until you have found a solution on the internet]
Warning: I invite you to search the internet for the exact procedures for performing these manipulations of the system and I cannot be held responsible for the consequences of what you do on your computer. Before performing any manipulation of the system, it is imperative to have backups of his music library and of his entire computer.
Important: When using an iOs 12 or iOs 13 device with iTunes 12.6.5, Apple has planned a small compatibility update which should download automatically to your computer.
iTunes 12.6.5 on MacOS Catalina, why not?
From the first feedback from users, it seems that some of them manage to operate the patched version of iTunes described above but with SIP permanently disabled.
This article may therefore be updated in the future ...
As a bonus, a tip!
A playlist of music samples from the Store
In recent years, music extracts from the Music Store have increased to 1mn30 for most of the songs, so it can be interesting to integrate them into an iTunes Playlist on your computer.
Column browser
Sorry for English readers 😉 below screenshots of the French interface of iTunes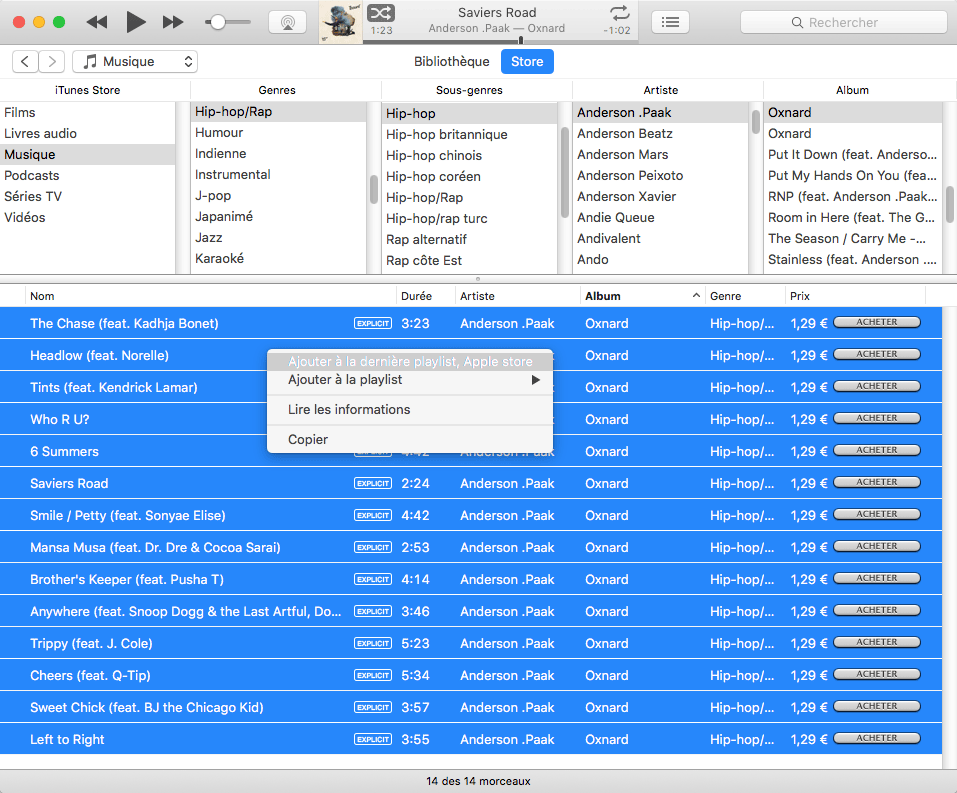 Navigate in columns by genres, artists and albums of your choice.
By selecting 1 or more songs you can use the right click or the keyboard shortcut "Ctrl + left click" to add them to the Playlist of your choice.
This also works for the titles of albums in pre-order and the not available extracts which can be added to your Playlists and which will be read automatically when they are released!
Presentation and settings of playlists
If your Playlist is in song display mode, you will notice that a new "Price" column appears displaying the price and a BUY button which also allows you to buy each song individually directly from the Playlist.
This "Price" column cannot be hidden in this mode because there is no filter with this criterion.
If you have Smart Playlists in which you do not want these extracts to appear, the trick consists in the module of edition of the Smart Playlist to use the criterion "size is different from 0" because these extracts are not physically in your computer.
As a conclusion
These Playlists containing musical extracts from the store can be useful for taking the time to discover artists before buying their albums.
Unfortunately they only work in iTunes on the computer and are not synced to your other iOS devices.